3 Things You Should Know About Domestic Violence Protection Requests
Dec. 21, 2021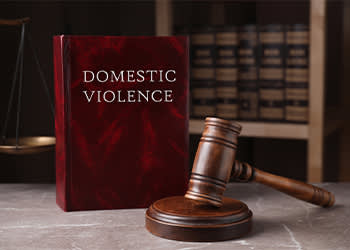 In the state of Maryland, approved domestic violence protection requests are referred to as protective orders. If you are currently seeking protection due to a domestic violence situation and need assistance, the attorneys at Lebovitz Law, LLC can help you take swift legal action. If you require urgent care or you are in fear for your life, we advise you to immediately contact your local law enforcement agency.
You deserve to live peacefully without having to worry about someone harming you or your loved ones. A protective order isn't just a piece of paper; the process is designed to ensure your safety. However, there are a few things you should be aware of before sending in domestic violence protection requests.
1. Only Certain Types of Relationships Qualify
Maryland law states that you must have a particular relationship with the other person in order to receive a protective order. This can include:
Someone you are or were married to

Someone you are related to (including adopted relatives and step-relatives that have lived with you for 90 days in the past year)

for at least 90 days)

Someone you share a child with

Someone you have had a sexual relationship with in the past year

Someone who raped, sexually assaulted, or tried to rape or sexually assault you over the course of the last 6 months
A vulnerable adult (someone over the age of 18 who needs daily assistance with basic needs) would also qualify for a protective order regardless of their relationship to the abusive individual.
If your relationship doesn't meet these qualifications, don't worry! You are most likely still eligible for a peace order.
2. You Must Prove the Other Party Acted in an Abusive Manner
All approved domestic violence protection requests must include proof of the other person's abusive behavior. You may have to explain the situation in court and provide direct evidence. These actions typically include:
assault, harassment or stalking

any action that makes you fear for your life (or impending bodily harm)

any action that causes bodily harm or injury

rape or sexual assault (including attempts)

revenge porn

false imprisonment
3. Know the Ways an Approved Protective Order Can Protect You
Once you obtain a protective order, it can help keep you safe in a number of ways. Legally, the abusive individual will be barred from contacting you, visiting your home, workplace or school, and harassing, abusing or threatening you in any way. If you are married to this person (or your name is on the lease/deed), a protective order can also force them to leave the home.
In addition, the order can include further details such as child custody, vehicle usage, counseling, financial assistance, and pet ownership. All protections addressed in the order last for up to a year, and they can be altered or extended from that point on.
If someone acts against a served protective order, it is a crime and they will have to face the consequences. However, your local law enforcement agency must be made aware of this. Contact them immediately to report any violation of the order. If the abuser is convicted, they could be forced to serve jail time or pay heavy fines. Don't hesitate to submit a domestic violence protection requests. In these situations, it's always best to act fast before things escalate.
The Attorneys at Lebovitz Law, LLC Can Help with Domestic Violence Protection Requests
Whether you are searching for an experienced lawyer to assist with your domestic violence protection requests, divorce, child support negotiations in Maryland or other issues, the attorneys at Lebovitz Law, LLC can help. To learn more about how we can assist you, please contact us today at (410) 324-3267.