COVID-19 Pandemic
Remote hearings are now an option due to the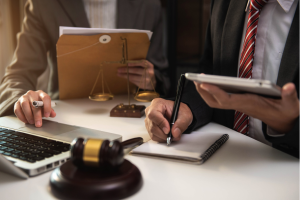 COVID-19 pandemic. Courts in Maryland are allowing remote hearings providing that a party makes the request to do so. This offers a broad range of benefits to parties on both sides, but first you have to understand how remote hearings due to the COVID-19 pandemic work.
Can You Have a Remote Hearing Due to the COVID-19 Pandemic?
Yes! You must make a formal request to have the hearing conducted remotely, which our office can assist you with. Once it is approved, you will need to pre-mark and file all exhibits at least 48 hours before the hearing. This ensures that everything is ready to be used virtually during the hearing.
Before the day of the hearing, you should ensure that you know exactly how you will join the hearing. Make sure that you have the right technology to participate and that your device is fully charged, whether you're using a smartphone or a laptop. If possible, test your devices beforehand to ensure that they are compatible with the requirements for the hearing. If you will be appearing over video, make sure that you are dressed neatly and wear solid colors if possible, as patterns can distort the video. Try to also sit in a quiet place without a distracting or messy background. Headphones are preferable to using your computer microphone, as they block out some background noise.
Are There Benefits to Doing So?
The primary benefit of remote hearings during the COVID-19 pandemic is, of course, reducing your exposure to others. You can participate from the comfort of your home, or you can sit next to counsel at our office during the hearing. However, if you are not sitting next to your counsel during the hearing, you won't necessarily be able to write down questions to them during the hearing as easily.
It also drastically reduces travel time and stress, particularly for out-of-state clients or people driving through bad weather to get to the courthouse. You won't need to worry about paying tolls, spending time driving, paying for parking and dealing with everything else that is involved in going to court. When you reduce travel time, you can also reduce your legal expenses, as your lawyer will not need to spend time traveling to the court.
Prepare for a Remote Hearing During the COVID-19 Pandemic in Maryland with Lebovitz Law
Whether you are searching for an experienced lawyer to assist with your landlord-tenant law case or the right place to assist with your divorce, Lebovitz Law can help. To learn more about how we can assist you, please contact us today.