3 Step Process for Custody Relocation in Maryland
Feb. 26, 2019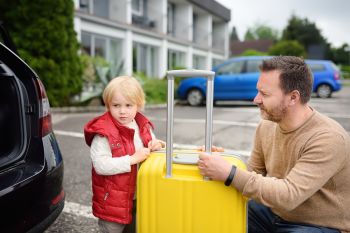 If you are a custodial parent seeking to relocate with your child you should never move before completing the three-step process for custody relocations required by Maryland law. Regardless of whether your move is in or out of state, you must provide notification to the non-locating parent, obtain his or her agreement and formalize the terms with the court. Each custody relocation step has its own requirements and exceptions:
1. Notification
The first step in the custody relocation process is for the relocating parent to provide both the non-relocating parent and the family court with written notice no less than 90 days in advance. Some courthouses require specific notice forms but at a minimum the notice should include the reason for the move and the new address. The notice must be sent by certified mail with a return receipt requested. Keep the return receipt to document that the notice was received.
The only exceptions to this rule are allowed in situations where notification would expose the child or relocating parent to abuse or if there are extenuating circumstances that prohibit the relocating parent from providing notice at least 90 days in advance.
2. Agreement of Non-Relocating Parent
The second step is to document that the non-relocating parent agrees to the move. In cases where the non-relocating parent immediately agrees, the process is simple. The parents submit written terms of the agreement to the court. This agreement could include updates to the custody agreement and/or parenting plan to account for changes to visitation schedule or terms.
If the non-relocating parent disapproves of the move he or she has 20 days upon receipt of the notification to file a petition with Maryland Courts. The judge will schedule a hearing to consider whether blocking the move is in the child's best interest.
3. Decision with Maryland Courts
If the non-relocating parent agrees to the move in step 2 above than submitting the terms of the agreement to the courts serves as a formal documentation and no further action is required. If there is a conflict, however, the judge will consider a wide array of factors to determine what is best for the child. In Maryland, there is no preference for the mother over the father or vice-versa. The judge will consider potential interference with visitation rights, the child's wishes, the fitness of the parents, the child's relationships with each parent, and any other circumstance that influence the well-being of the child. Once a determination has been made, the judge will issue a court order to which the parents are legally bound.
How Do I get My Ex to Agree to Custody Relocation?
If you want to move but need to negotiate a custody relocation first, give us a call at Lebovitz Law. We have years of experience negotiating the best deals for our clients, whether it's family law or property law. Contact us today.